Installing Floor Insulation Near Kansas City, Overland Park, Lawrence
If you're tired of waking up to cold floors, Green Factor Insulation can help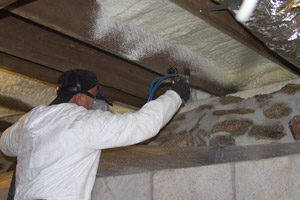 Spray foam insulation will keep your ground from losing heat to the basement or crawlspace – and seal air leaks, too.
Ground level floors may get too cold in the winter if the spaces beneath them are cold. Existing insulation (if there is any) is often inadequate or improperly installed beneath the floor boards. Floor surfaces cool as the heat they contain is literally sucked away. Drafts cool floors, too.
As heated air escapes from the upper levels of your home, cold air is drawn in through cracks around lower level windows and doors, from below the floor, and from outdoors. The cold air is heavier than warm air, so it tends to hug the floor and cool its surface.
Insulating the floors in your home will reduce drafts and help you save each year on energy costs. Green Factor Insulation is your local home insulation company, providing our professional floor insulation services to local homeowners throughout Greater Kansas City. Contact us today to get started on living comfortably at home!
Insulation solutions for the spaces below your floor
More tips for warmer toes
Vinyl, carpet, cork, and wood feel warmer than ceramic tile, stone, and concrete.
Install glass doors on your fireplace.
Where feasible, supply outdoor combustion air to your furnace or boiler. Drawing combustion air from your basement or utility closet creates drafts.
Weatherstrip your windows and doors, especially the gaps between the bottom of exterior doors and the thresholds.
Wear warm slippers and socks!
When possible, convert the space below your floor to a conditioned (warm) space. For example, by insulating basement or crawl space walls with the proper insulating material, those spaces will become much warmer and so will the floors above them.
When it's not possible to insulate the walls of your basement or crawl space, ask us about insulating the joist bays (spaces between joists) under the floor. We have various types of insulation materials that can do the job, including spray foam and rigid foam.
Our installers will pay special attention to critical areas, such as perimeter rim joists – a notorious source of air leakage. Whichever option you choose, it should be accompanied by a thorough air sealing of your home. Air sealing reduces the stack effect that is continually trying to expel air through small openings all throughout the upper reaches of your home, while it pulls in air through gaps around the lower levels of your home.
Warm up cold floors above garages, balconies, and porches
Ground level floors aren't the only ones that can get cold. Rooms built above garages are notorious for having cold floors due to lack of insulation and so is any floor that's cantilevered (overhangs the foundation perimeter).
balconies, bow and bay windows, and bump-outs are all examples of cantilevered spaces. Their floors are especially prone to air leaks because of ill-fitting soffits (boards used to seal under the overhang) combined with direct exposure to wind. Green Factor Insulation has detailed solutions for each and every situation.
We will specify the most appropriate insulation services based upon you home's construction and your budget. Start saving energy and money today with an insulation upgrade. Call 1-855-246-3393 or contact us online for an insulation estimate in Kansas City, Overland Park, Lawrence, Independence, Topeka, Olathe, Shawnee, Manhattan, Blue Springs, Lees Summit and nearby!
Looking for a price? Get a no cost, no obligation free estimate.