Spray Foam Insulation in Kansas - What's Your Choice?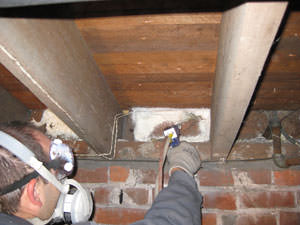 Find the right foam. Our experts will help you choose the best spray foam for your needs.
Spray foam insulation is in the news a lot these days. With energy costs on the rise, people are paying more and more for heating and cooling. Maintaining comfortable interior temperatures demands electricity, gas and fuel oil to run HVAC equipment —furnaces, boilers, heat pumps and air conditioners.
Most homeowners understand that improving home insulation is a surefire way to cut the cost of heating and cooling, and that's where spray foam comes in. While homeowners consume spray foam in the form of small pressurized cans available an home centers and hardware stores, foam insulation contractors are busy doing large-scale spray foam operations —filling the spaces between studs, joists and rafters with the insulation that expands on contact.
Green Factor Insulation can inspect and evaluate insulation and airtightness levels at your house and provide the right energy-saving solutions. Contact us today for a free estimate for spray foam insulation in Overland Park, Kansas City, Lawrence, Olathe, Topeka, Independence, Lees Summit, Shawnee, Manhattan, Blue Springs, and the surrounding areas.
We help homeowners choose the best: closed cell or open cell
There are different kinds of spray foam, and many people are confused about the differences between open-cell foam and closed-cell foam. Let's see if we can clear up some of this confusion.
Open-cell foam has lower R-value and higher permeability
Like its name suggests, open-cell foam is made up of tiny bubbles that are interconnected. The bubbles hold air, which provides insulation value — typically between R-3.5 and R-4 per in.
Like closed-cell foam, open-cell foam expands to fill gaps and cracks as soon as it's applied. But instead of curing to a hard, smooth-surfaced mass, open-cell foam has a spongier feel. And like a sponge, it will absorb moisture. Since insulation loses R-value when wet, it's not advisable to use open-cell spray foam in damp environments like basements and crawl spaces. It can be sprayed between rafters or studs, but its low R-value won't provide much total insulation value in a confined space. Open-cell foam is usually less expensive to install that closed-cell foam.
Closed-cell foam provides a vapor barrier, a harder finish and higher R-value
Canned foam like GREAT STUFF™ is a closed-cell foam that comes in "single-component" form. The closed-cell foam that contractors use on large-scale spray foam jobs is also known as "two-component" foam or polyurethane foam. Two chemical compounds are blended together at the application nozzle, causing the expanding foam reaction.
Even though it's more expensive to install than open-cell foam, closed-cell foam is often preferred for home insulation projects because it offers higher R-value — between R-6 and R-7.1 per in. — and because it forms an effective moisture barrier. The ability to block moisture transmission while also providing air sealing and high insulation value is an advantage in many applications.
Start saving energy & money with a spray foam insulation upgrade
Green Factor Insulation are your local experts for all your spray foam solutions in Greater Kansas City. Call us at 1-855-246-3393 or contact us online to schedule a free estimate for spray foam insulation in Lawrence, Kansas City, Overland Park, Independence, Topeka, Olathe, Shawnee, Manhattan, Blue Springs, Lees Summit, and the surrounding areas.
Looking for a price? Get a no cost, no obligation free estimate.