Installing Radiant Barrier Near Kansas City, Overland Park, Lawrence
Reduce your cooling bills with properly installed attic insulation
Watch this video to see why a radiant barrier is perfect for homes in a hot, southern climate.
If you've ever gotten into your car after it's been sitting in the summer sun for an hour or so, you know firsthand just how hot the car can get. Leather seats can literally make you jump, and it can take your car's air conditioning quite a while to make the space comfortable again.
Why would a car's interior get so much hotter than the air outside? Because of radiant energy from the sun -- solar heat that keeps building up inside of your car.
During the summer, the same principle applies in your attic, where the air can become super heated just like the air in your car. As the temperatures shoot up to 120, 130, 140 degrees or higher, your home heats up dramatically. This forces your cooling system to work harder than ever. Your electricity use spikes, and you spend a lot more money.
Green Factor Insulation installs radiant barriers in attics and are experts in saving energy through your attic, as well as many other parts of your home. For your free radiant barrier estimate, call or e-mail us today! We serve Kansas City, Overland Park, Lawrence and surrounding Kansas areas.
Benefits of radiant barrier insulation:
Reduce cooling costs by as much as 15%
A radiant barrier can lower attic temperatures by as much as 30° F
Items stored in the attic are less likely to be damaged by high temperatures with a radiant barrier installed
A radiant barrier can improve the performance of attic ductwork
During the heating season, an attic radiant barrier reflects warmth from the house back toward the living space
We can help you choose the right type of reflective insulation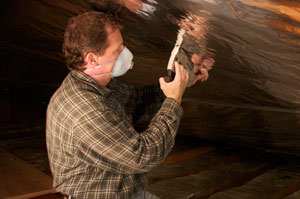 By installing a radiant barrier across the rafters, your attic stays cooler and so do you. A radiant barrier in an attic can reduce air conditioning expenses by 10 percent or more
Radiant barriers are sometimes referred to as "reflective insulation" and "radiant barrier insulation" because, similar to insulation, they can effectively slow the transfer of heat.
In an attic, the radiant barriers we use work by reflecting heat. When it's hot, up to 97% of the sun's heat can be reflected back outside by a radiant barrier. This will reduce the heat gain and take a load off of your air conditioning. In the winter, this reflective effect works the other way, reflecting heat from the house back toward your living space.
Get an estimate for radiant barrier panels in Kansas
As the local experts for home insulation, Green Factor Insulation offers professional radiant barrier installation and specializes in a variety of insulation solutions. Our insulation services are available in Lawrence, Kansas City, Overland Park, Lees Summit, Independence, Olathe, Topeka, Shawnee, Blue Springs, Manhattan, De Soto, Basehor, Tonganoxie, Baldwin City, Edwardsville and the nearby areas.
Call 1-855-246-3393 or contact us online for an insulation estimate in Kansas.
Looking for a price? Get a no cost, no obligation free estimate.